Adventures in Time Travel
Spring in Upper Canada
Looking for family-friendly activities during March Break? Travel back in time by participating in our historic activites program! With historic game playing, demonstrations and more, we guarantee your journey to the 19th century will be both educational and fun. No reservations required!
Join us March 13 to 17 for some family-friendly (and educational!) fun on the grounds of historic Discovery Harbour!
Don't like the cold? Hone your 19th cenury fire-starting skills
Winter is no excuse! Black Powder musket demonstrations 3x daily
Learn how the 'other side' lived with a guided tour of the original stone Officers' Quarters
Leisure time, you say? Learn and play some fun historic games
Check the Wreck: examine the original hull remains of the H.M.S. Tecumseth
Avail yourself of our horse(power) drawn four-wheel conveyance (Ok, it's a big wooden wagon pulled by a tractor, but still a cool way to get around Discovery Harbour!)
Please note that children must be accompanied by an adult for the duration of their visit.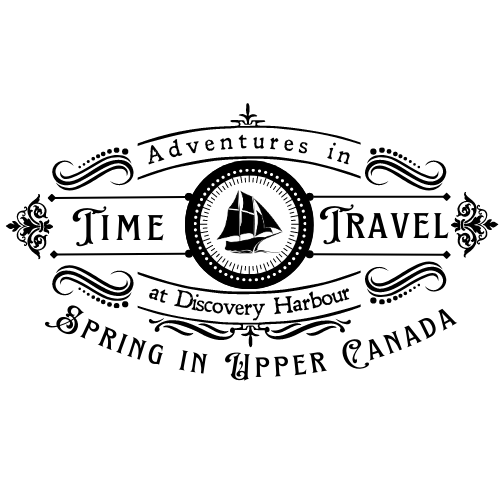 Dates & Times:
Dates: March 13 to 17
Times: 10 a.m. to 4 p.m.
---
Tickets Details:
Tickets are $9 per person (tax included) for Adventures in Time Travel at Discovery Harbour OR…
$15 per person (tax included) to attend March Break events at both Sainte-Marie and Discovery Harbour and Sainte-Marie among the Hurons.
Children five and under are FREE
No reservations required!
Season pass holders get free admission to this program
Ontario Teachers, Members of the Canadian Military, and Indigenous people are eligible for free admission with valid ID.
Payment will be taken upon arrival. We accept cash, debit cards, Visa and Mastercard.
Please read the information found under "Plan Your Visit" below for more details.
Image Gallery:
Please click each image below to see a larger version.
---
Make your March Break Epic:
Book your Escape Room Experience!
Running during the Adventures in Time Travel: Spring in Upper Canada program is our captivating Escape Room Experience.
Gather your team of 4-6 players and solve puzzles and challenges to escape!
Experience our Epic Escape Room!
Please click each image below to see a larger version.
Dates & Times:
Monday, March 13th – Friday, March 17th
10:00am, 11:30am, 1:00pm & 2:30pm

Reservations are required
Escape Room Experience Tickets:
Tickets are $32.00 per person

Includes HST and admission to the March Break program

Cash, credit & debit accepted
Season passes not valid for the Escape Room
Passes & coupons are not accepted for the Escape Room
Good to Know:
This experience is suitable for those 10 years and older
Parent/Guardian supervision is required while in the Escape Room (for all participants 16 years old and younger)
You will need at least 4 players 16 years or older to successfully complete the challenges
Teams will have up to 1 hour to escape from the Brig, using clues and solving puzzles
As part of your experience, your team will be accompanied by the "Jail Guard". They will offer you hints if you ask.
Please arrive 15-20 minutes before the start of your experience to allow for parking and admission
About the Escape Room Experience:
You and your guests have run afoul of perhaps the toughest Bo'sun in His Majesty's Royal Navy, Bo'sun Starkweather! Oh, he is a "Jack Nasty Face", no doubt about it, and has a sense of humour as dark as the night sky. Which is why he has concocted a series of puzzles and challenges designed to frustrate, confuse and mislead you. Beat him at his game and you gain your freedom! Fail, and the black-souled Bo'sun may leave you in this dank, dark place for good! Look lively now! The clock is ticking. You and your mates are running out of time!
Reserve your Escape Room Experience now!
Plan your Visit
While we love our furry friends, we are not able to accommodate pets at this special event (service dogs are welcomed of course). Thank you for your understanding.
Taking photos is encouraged
Smoking or vaping (including marijuana) is not permitted on Discovery Harbour property
Please note this event takes place indoors AND outdoors and, visitors should plan to dress accordingly for weather and terrain
How to Get Here
Parking Info
Please park in the parking lot provided and make your way on foot through the black entrance gates to the boardwalk area and The Charthouse (Admissions building).
Need more info?
Please contact us at hhp@ontario.ca or (705) 549-8064 if you have any questions.
About Discovery Harbour
Discovery Harbour traces its roots back to the original British naval and military base in Penetanguishene, built to safeguard access to Upper Canada after the War of 1812.
"His Majesty's Naval Establishment on Lake Huron", (as it was first called) kept ships prepared to supply British posts to the northwest. By 1820, it was home to over 70 people, including sailors, officers, shipwrights, and soldiers. Five large ships, 15 smaller vessels, and numerous workshops and dwellings were built.
In 1828, a British garrison on Drummond Island was relocated to Penetanguishene. By 1834, Canada was defended exclusively by these forces. An impressive stone Officers' Quarters was built in 1845. The military occupied the site until 1856.
Discovery Harbour is operated by Huronia Historical Parks, and is an Attraction of the Ministry of Heritage, Sport, Tourism and Culture Industries.